About Us





Home Hardware Stores Limited is owned and operated by independent Home Hardware Dealers across Canada. Founded in 1964 by a small group of hardware retailers, it has grown from an idea into the largest Dealer-owned hardware and building supply wholesaler in Canada, with membership of over 1000 stores.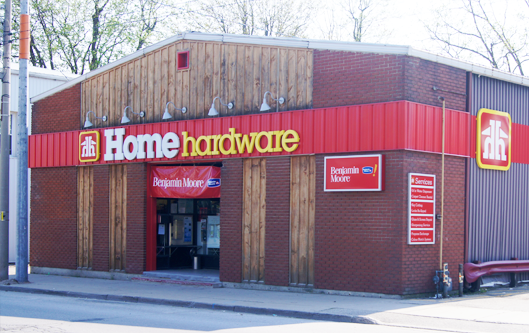 Aylmer Home Hardware first opened its doors in 1977. Changing owners in 1980 to Don and Connie Krupp. Aaron and Ada Kelly have owned Dorchester Home Hardware since 1993 and acquired Aylmer Home Hardware in 2009.
Retail is a constantly changing environment and are striving to keep pace with these changes too. This year, 2014, has seen some major changes to our store with the addition of two major brands: Benjamin Moore and Stihl.
Aylmer Home Hardware prides itself in great customer service and expert advise. We have excellent paint, plumbing and electrical departments as well as factory sales for Paderno cookware. We gladly will order specialty products for those difficult to find items. On-Line ordering is another example of our commitment to our great customers. Our customers are important to us and we are always happy to serve them to the best of our ability.

The Kelly's